Basketball Pocket Coach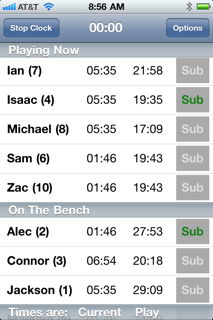 FASTEST, EASIEST STAT TRACKING
UNIQUE PLAYING TIME TRACKER
NO PAID SUBSCRIPTIONS NEEDED
USE RIGHT AWAY WITHOUT TRAINING
For youth basketball coaches and parents, this application tracks playing time and statistics during a game. Provides an easy way to ensure minimum playing time for each player, keep track of how much each player has been on the bench, and record key statistics for review after the game. The design of this application is simple, quick, and easy to use, providing what you need without alot of clutter and useless features. You don't need a training course to use this app!
Basketball Pocket Coach is the only app that lets a coach keep track of playing time and bench time during a game. In a glance, you can make game time decisions to spread out playing time. If you don't care about playing time, you can turn off this feature and just focus on statistics.
Version 4 now tracks multiple games so you can keep your entire season on your mobile device, as well as multiple teams. Basic version is now FREE! Upgrade to premium features immediately with in-app purchase.
NEW: Import and export teams from TeamSnap.com (player data only, not stats), with in-app purchase.
Features:
Shows total playing time for each player
Shows "time since last substitution" to track current floor time and current bench time
Game clock that you can pause, or begin a new period of any duration
Send group messages to entire team
Multiple teams, multiple games, season stats
One tap stat tracking, quick and easy
Key statistics for each player: shot attempts and hits (1, 2, and 3 pt shots), offensive and defensive rebounds, assists, turnovers, fouls, steals, blocks.
View, print , and email beautiful reports or CSV data file
iPad version uses full screen, support for landscape mode
Customize what you track to streamline the interface
No web site fees to share data, etc.
Universal app supports both iPhone and iPad
More screen snapshots on our Facebook page here
.
Click to download FREE: